TESTIMONIALS
 "what a natural and skillful facilitator you are! Had so much fun at your Femvoice workshop and learned so much (and appreciate not being put on the spot or feeling awkward.) thanks Parissa the night was a joy, and loved being with other fab women. I'll be back . Xxx"
KERRIE CLARKE
 "Fabulous to have you back facilitating singing again Parissa....always a joy to be present in your groups....they are fun, informative and a tonic for the soul."
SHARON MUIR
What does it takes to get up and sing/jam at a party?
What does it take to perform with confidence, professionalism and skill?
What does it take to get your songs ready to record and how is it different to live performance?? 
fEmpower Voice is my néw group workshop offering.  Born out of seeing so many, particularly young women, who would like to join in the jam or get up and perform,  but are too shy or lacking skills to try.  I've even seen young women who can sing a song beautifully come unstuck when trying to improvise with the, mostly, fellas in the band 
I can help with that!  Jamming and AdLib singing is my favourite pastime   It doesn't only take courage, but skill to hear the music and converse musically. It also takes vocal production techniques to help you get your message across. It takes rhythm, 'cos it don't mean a thing if it ain't got that swing… 
I'm a fully qualified, very experienced CCM singing teacher,  Level III Somatic Voicework TM instructor, as well as being an award winning singer songwriter with 7 albums under my belt, and a music producer 
My aim is to empower women, in a safe, supportive sisterhood space, so that you can move forward in all the areas you need to fully achieve your desired self expression, in a small group environment, so it's more affordable than private lessons. It's a great way to find your own superpowers! 
So, if you know someone who might be interested, please share this with them.
If you want to ask questions call me 0421330766. 
If you want to stay connected,  join my mailing list and get the updates, or like my fEmpower Voice Facebook page to join the fEmpower community: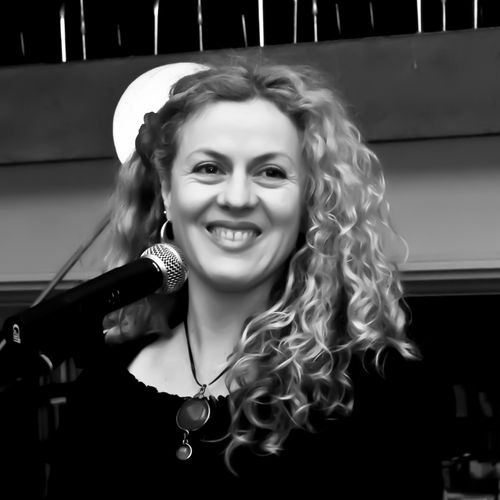 WORKSHOPS BIOGRAPHY
At festivals and music camps across Australia, Parissa's vocal, performance and rhythm workshops are highly sought after.  Recent music camps include: Melbourne Singer's Festival, VIC; RhythmSong WA; Jamberoo Folk Music Camp NSW;  Daylesford Singer's Festival  VIC; Folkworx WA; Singout NSW;        Wintersong NSW; Music For Everyone ACT; Woodford Folk Festival, QLD...
Parissa has taught alongside: Stephen Taberner, Rachel Hore, Kavisha Mazzella,  Carl Pannuzzo, Jojo Smith, Carl Cleves, Tanna Kjaer-Dona, Richard Lawton, Leigh Carriage, Fay White, Linsey Pollack, Stiff Gins,  among others...
In 2012 she was commissioned to lead the Fairbridge Festival Festival Finale Choir to help celebrate the festivals 20th anniversary.  In 2009, Parissa led the National Folk Festival Choir, singing songs from Latin America. In 2000 she conducted the Woodford Folk Festival Millenium Fire Event Choir.
When not touring Parissa runs performance master classes with HSC students, and maintains a busy private studio.
"The Health Department actually hires me to help raise the standard and empower community choir leaders throughout Victoria, because they have realised that singing together can positively impact upon peoples mental health. How enlightened is that!"