Song Catchers – an intimate evening of award winning songs with Andrea Soler & Parissa Bouas  - Friday 16 September - Marvell Hall
37 Marvell st, Byron Bay - $20 -7pm - BYO
Dear friends, 
I'm again dipping my toe into the live performance realm, after such a bruising past couple of years of unprecedented, well everything, including gig cancellations… we'll be performing on Saturday September 16, in the very cute little Marvell Hall, in the heart of Byron Bay!!! 
And who better to do it with than, sunshine personified herself, Andrea Soler!! She's such a great performer, person and songwriter, and singing with her in The Bella Fontes, along with Nadia Sunde, was such a hoot, we thought we might try to do a concert together…to be clear we'll be performing separately on the night, but maybe we can squeeze in a song together??? (We live far apart and have our busy lives, but we'll see what we can arrange)… So exciting!! 
It'll be a house concert kind of vibe, with us sharing our songs from previous albums and also new songs, hot off the press, from these past few tumultuous years. I'll have the legendary Dan Brown on keys too J 
If you'd like to hear some up and coming talent of all ages, come early for the 6pm Student Concert. The Main Concert doors open at 7pm. BYO
Parissa Bouas and Friends  Concert
Come help us celebrate the gradual return to normal life in our community with this intimate and  uplifting concert.  Parissa will inspire us with her new songs, written in COVID times and share many fond memories with her songs from previous Hottentots and solo albums. 
Supported by a caste of Byrons best musicians including: Carl Cleves, James Ross, James Pattugalan, Shivam Rath, Sean Mackenzie, Elliott Orr, Steve 'Bongo' Nugent and many more surprise guests... 
Parissa's singing student concert will be from 4.30-5.30pm and well worth watching, as there is some talent around these parts!! 
$25, children under 10yrs free 
Food available 
"Parissa … immediately engages by being blessed with a voice that has timbral overlaps with Billie Holiday's. More significantly she shines the charm off that voice on some exceptional self-penned songs" 
JOHN SHAND, SMH
2019 was huge!!!  First cab off the rank, The Tassie Tour with Carl Cleves - THE HOTTENTOTS, went beautifully in January. I still love singing those deep and intimate songs with Carl, so we're hoping to  do some local performances again later in the year.
This wonderful concert at HOTA , Performing Arts Centre, Gold Coast in July , Gorgeous women singers, great fundraiser for Mother's Milk Bank!!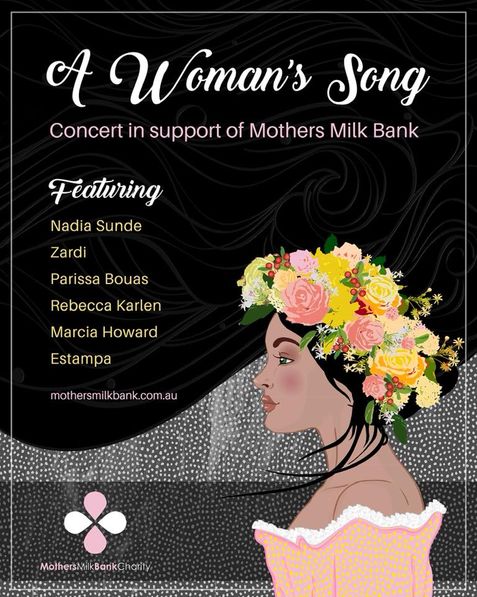 I launched  my new band, the 'World Citizens', a top notch list of who's who musicians, a super mix of young guns and legends: Greg Lyon (Crossfire), James Ross (Andrea Soler), James Patugalan (Utugun Percussion), Carl Cleves (Hottentots), playing gigs in the Bellingen area, featuring Ollie McGill (Cat Empire) and in Mullum featuring Sean Mackenzie.
It was such a pleasure to finally bring together all the strings on my bow...Singing songs from my Hottentots, Diaspora Latina and Bella Fontes days as well as new songs and groovy tunes from around the world, that I just really love, with musicians that I love!!!   An irresistible unique mix of jazzy + pop + world music… moving from deliciously, sensuous slow tunes in the first set to put on your dancing shoes in the 2nd!!!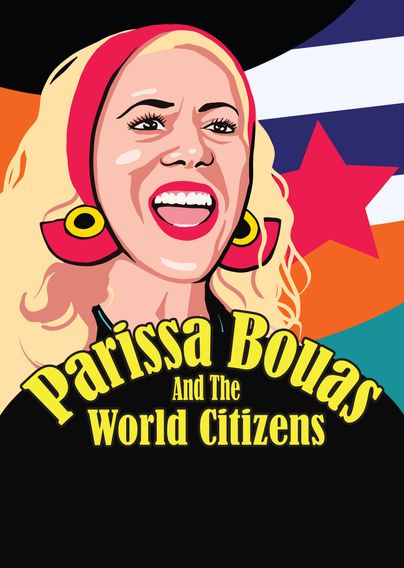 Started singing with the wonderful PALM WINE AMBASSADORS, stay tuned for more news about upcoming shows.
Been slowly working away on a cabaret show  featuring my originals, with the incredible Andrew Worboys, music theatre musical director extraordinaire and Zed Jones, mystic beat poet, songwriter and muse...hopefully that will start to bear fruit later this year...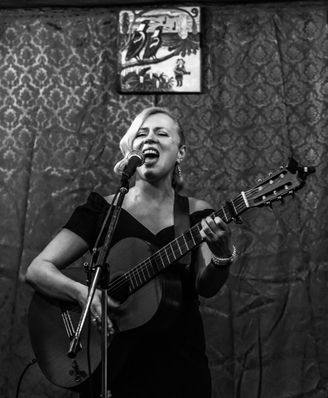 PRIVATE TUITION NEWS - NOW ACCEPTING CREATIVE KIDS VOUCHERS!!!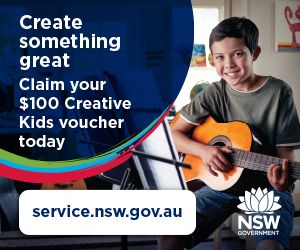 Now tutoring singing at St John's College Woodlawn & Xavier Catholic College.
Latest Carl Cleves and Parissa Bouas CD, 'Halos round the Moon',  out now on Stockfisch Records.