Biography
"Parissa has a voice that would aggravate angels with it's beauty" Philip Adams ABC RN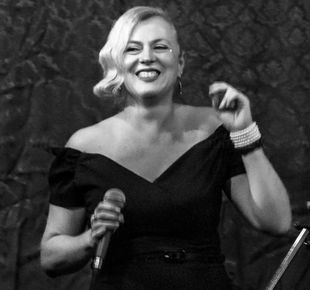 "Parissa … immediately engages by being blessed with a voice that has timbral overlaps with Billie Holiday's. More significantly she shines the charm of that voice on some exceptional self-penned songs" 
JOHN SHAND, SMH 2.5.14
"As always, Parissa proves she is a singer with few equals in this country" 
Richard Jasituowicz, DIASPORA World Beat Magazine
"Bouas's vocals,… are sweet, rich and soaring "
Bruce Elder SMH
PARISSA BOUAS
Multi award winning, Greek Australian chanteuse, ex The Hottentots,  PARISSA BOUAS is shut-the-front-door DYNAMITE!  Like a blend of Carmen Miranda, Billy Holiday and Madeleine Peyroux but completely herself at the same time.   Seduced at an early age by the passion and rhythms of Latin American and African music, these influences come through in her song writing. Her sultry, seductive vocals and moody, Gypsy Jazz originals are juxtaposed with sublime Brazilian inspired melodies and swing those hips Calypso tunes.
Parissa has won a legion of fans and respect for her performances around the world with Australia's definitive coffee house couple, The Hottentots.  After six internationally acclaimed albums, a swag of accolades and years of performing, writing and recording in folk /world music styles, PARISSA is now expanding into the Vintage jazz, Latin Jazz and alt Pop path. 
Her  debut solo CD,  "The Full Force of the Wind" won the  Song of the Year,  Best Jazz and Best World Music @ NCEIA Awards.
"The Full Force of the Wind", is Parissa's first collaboration with Dutch multi instrumentalist, instrument builder and producer Michiel Hollanders.  Her musical support team includes Dutch virtuoso bandoneonist Marc Constandse whose musical presence is nuanced, passionate and rhythmic. Australia's pre-eminent Brazilian specialist, Doug De Vries, who seduces with his 10-string guitar, rebolo and cavaquinho on the Latin influenced, title track 'The Full Force of the Wind'and on 'Honey and Candlelight'.  But it is Michiel Hollanders and Parissa's combined magic that combines to create this unique sounding album.
Recorded at Muse Agency and Pughouse Studios in Australia and Smoked Studios in Holland and mastered at LOUD! in Amsterdam, the exotic timbres of velofoon, saw, fietsband bass, claude viol and bandoneon mesh perfectly with Parissa's sublime, moody melodies.
Parissa's eclectic vocal styling's lean towards the jazzy sounds of Melody Gardot and Madeleine Peyroux and are supported by rich and quirky arrangements, which draw on elements of vintage jazz, Latin, pop and Manouche.
A free-spirited artist who is both playful and profound, PARISSA's performances are mesmerizing.  She wraps her audience in a veil of utter captivation alternating "between a tone that would cut glass and breathy seduction".  PARISSA'S songs offer deeply compelling evocations of love, loss and heartache, while her voice offers a deep level of emotional authority and technical fluency.
PARISSA'S journey has been an unconventional one.  During school years she entertained herself by dancing, singing and acting professionally from 13 years of age.  After leaving school she joined choirs, originals indie pop band ' The Marcos Family', sang in Sydney Salsa bands and then travelled to Nicaragua to pick coffee for the Sandinistas, after which she joined Andean folk group, Raices de Peru, and became passionate about Latin American folk music.  Upon return to Sydney, she studied external courses at the Sydney Conservatorium and became an award-winning student of the Contemporary Music degree at Southern Cross University.
The Hottentots were born at this time, with long time writing partner, Carl Cleves, playing a danceable mix of World influenced originals and up tempo Mbakanga, Zouk, Salsa, Calypso, and Forro.  Over the years, and six award winning albums, influences became more folky and the subject matter deeper.  Their many awards, include:  MUSICOZ, ASA and Dolphin Music Awards for Best Folk Song, Best World, Best Acoustic and Best Album, twice.  Their most recent CD's: 'Out of Australia' (2011) and, 'Halos 'round the Moon' (2014), are produced by the famous 'tone meister' Gunter Pauler and released on renowned German audiophile label, Stockfisch Records.
In 2010 she co-wrote the bilingual Greek pop tune , 'I Belong', with Sydney film composer Nicolette Boaz, for the popular 'Hypnopeadia'  WorldBeats CD, which was featured on Triple J.   Parissa's voice features on afro beats artist, Yeshe's 2 award winning CD's and her haunting voice can also be heard on Peter Westheimer's new 'Tranzworld Express' CD.  
She has shared bills with Rory McLeod, Loudon Wainwright III, Kristina Olsen, Harry Manx, Kavisha Mazzella, Eric Bogle, John Butler, TinPan Orange, Bomba,  JigZag, Bobby Alu, Declan Kelly...
PARISSA is also known for her inspiring work with choirs at festivals and music camps across Australia.  In 2017 she taught at The Boite Singers Festival, Melbourne.  In 2012, she was commissioned to conduct the Fairbridge Festival 20th Anniversary Finale Event Choir and worked with worked alongside Linsey Pollack and with WA stand up poet, Kate Wilson to co write the Fairbridge Festival Song.  In 2009 she led the National Folk Festival Choir.  In 2000 Carl & Parissa, co -wrote the anthemic 'Put Your Hand in Mine' for the Woodford Festival Millenium Fire Event Choir of 700 voices, which she also conducted. It was transmitted by satellite to over 60 countries as part of the ABC TV Millenium program. 
Parissa also performs at national festivals with 10 piece feminine Afro Brazilian vocal, percussion and dance ensemble Meninas da Lua and with vintage Calypso Cabaret group The Bella Fontes. She is currently writing a cabaret show with acclaimed music theatre, Musical Director, Andrew Worboys.
" **** Parissa immediately engages by being blessed with a voice that has timbral overlaps with Billie Holiday's. More significantly she shines the charm off that voice on some exceptional self-penned songs… "
JOHN SHAND, Sydney Morning Herald
"I cannot stop listening to this doll-faced singing angels album…I adore her stage presence, songwriting, vocal timbre and phrasing. I urge you to check her out online or live...If you don't already know this starlet please allow me to introduce to you Parissa Bouas!"
ABBIE CHIQUITA CARDWELL
Past performances include: Sydney Entertainment Centre support Dizzy Gillespie,
MONA Museum, Darling Harbour,  The Basement, Brisbane Powerhouse, Judith Wright Centre, The Boite VIC, Camelot Lounge (Sydney).
She tours regularly to Belgium, Germany, & Brazil: 
Petruskirche (Berlin), Musicstar (Hamburg), Panorama Museum (Germany), Cultureel Centrum (Mechelen), TV Minas (Brazil)…
Festivals appearances include: Port Fairy VIC, Woodford QLD, Bleach QLD, Fairbridge WA, Cygnet TAS, National Folk Festival ACT, Island Vibe Festival QLD, Wintermoon QLD, Brunswick Music Festival VIC…
LINKS                       http://www.parissabouas.com    https://www.facebook.com/ParissaBouasmusic
Nothing's Gonna Last – video clip https://www.youtube.com/watch?v=4FeZIpZCuQE
The Full Force of the Wind – with signing dance LIVE   https://www.youtube.com/watch?v=XoO2qmyPAIg
CD available on iTunes, Spotify, Pandora
t: 04213 30766